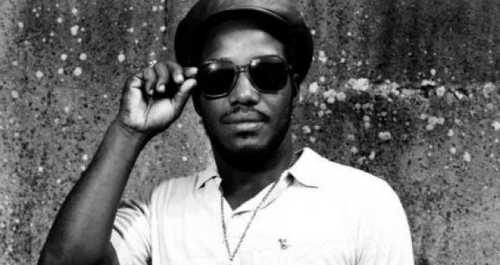 Delroy George Wilson CD was a Jamaican ska, rocksteady and reggae singer. Wilson is often regarded as Jamaica's first child star, having first found success as a teenager. His youngest son, Karl "Konan" Wilson, has found success as part of British duo Krept and Konan.
---
The Best 10 – Delroy Wilson
---
Delroy Wilson was one of Jamaica's most soulful vocalists, and over a 40-year career the singer unleashed a flood of hits and a multitude of masterpieces. Born on October 5, 1948, in the Kingston neighborhood of Trenchtown, Wilson's phenomenal talent would be his ticket out of the ghetto, and his discovery by producer Coxsone Dodd in 1962 would change the path of Jamaican music. His first recording for Dodd, "If I Had a Beautiful Baby" did little, but the producer stuck by his prodigy, and his follow-up "Spit in the Sky," was a sound system smash. That number was Dodd's personally composed smack at rival Prince Buster, while Lee Perry penned Wilson's "Joe Liges" as a sharp rebuke aimed at Buster's "Bad Minded People." "Joe Liges" garnered Wilson his first chart hit, and sparked Jamaican's continuing love affair with pint-sized singing stars.
The vinyl battle continued across a clutch of notable singles, including "Prince Pharaoh" and "I Shall Not Remove," the latter titling Wilson's 1966 debut album, while he also cut the proto-Rasta "Lion of Judah." Across the ska era, the teen sensation recorded a steady stream of popular numbers for Dodd, and even better material was to come once he hit puberty and his voice broke. Wilson's cover of the Tams' "Dancing Mood" arrived in 1966, helping to set the stage for the rocksteady era. The song was a smash, and remained a fan favorite, prompting the singer to recut the song several times in later years.
---
Albums
I Shall Not Remove (1966) Studio One
Good All Over (1969) Coxsone/Studio One
Better Must Come (1971) Dynamic Sounds
Captivity (1973) Big Shot
For I And I (1975) Grounation
Sarge (1976) Charmers
Last Thing on My Mind (1977) Harry J
Money (1977) Clocktower
Mr. Cool Operator (1977) EJI
Lovers' Rock (1978) Burning Sounds
Who Done It (1979) Third World
True Believer in Love (197?) Carib Gems
True Believer in Love (197?) Micron
Unedited (197?) Hulk
Living in the Footsteps (1980) Joe Gibbs
Go Away Dream (1982) Black Music
Nice Times (1983) Vista Sounds
Reggae Classics (1984) Londisc
Worth Your Weight in Gold (1984) Burning Sounds
The Dean of Reggae (1985) Mister Tipsy
Looking For Love (1986) Phill Pratt
Million Busters in Reggae (198?) Top Rank
Super Mix Hits (198?) Pioneer International
Dancing Mood Studio One
Oldies But Goodies Pioneer International (with Owen Gray)
Now (19??), Real Wax
Wilson's work has also been collected on over 15 'Best of' compilations and he features on dozens of compilations of reggae and ska music.
---
Make a Donation it keep us running. Thanks a lot!
Donate Via Wallets
Select a wallet to accept donation in ETH BNB BUSD etc..
---